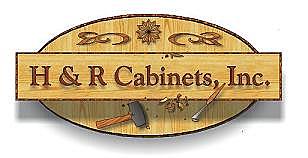 H & R Cabinets was established in 1978. In 1982 the company was incorporated and remains an active Florida Corporation. The company was passed down to the two sons, Jeffrey and Dennis Ulrich. Jeffrey is in charge of production and installations. Dennis is in charge of customer contacts, design and layouts.
Why choose H&R Cabinets, Inc ?
We manufacture our own cabinetry. We customize our cabinets to fit your specific needs. We offer unlimted designs and finishes. The customer does not need to deal with any other cabinet related supplier. We install our own products. Every step is supervised by either Jeffrey or Dennis.

We only produce custom wood products. We do not produce laminate products and no longer deal with thermofoil products.​​
Each prospective customer will get a detailed estimate with a computer layout. No dimensions will be placed on the layout until a contract has been signed. Once a contract has been signed, a 40% deposit is required. All parts and pieces are ordered within three (3) days of the deposit. The project will be released for production under the supervision of Jeff. Any changes made after this point will be assessed a service fee and will require a signed change order. Many factors come into play in the production of your cabinetry. Quality work can not be rushed. The average job takes between five (5) and seven (7) weeks.


All customers will get a finished door in their color selection. This door will remain with the customer until the job is complete. The door (upon complition of the job) need to be returned to H & R Cabinets.


It is necessary that all appliance models and makes of all appliances be supplied to us prior to beginning production. Once a space has been allotted for an appliance, it can not be changed. All built-in appliances require a specific dimensions.
We do not supply appliances. We can make recommendations as to where to purchase them. It is necessary to deal with a company that is aware of the pros and cons of the upscale appliances. Our recommendations are made only because the vendor is reliable.
We do not fabricate countertops. We only use well established companies with years of experience and a good reputation. We do not mark up the counters. We charge a flat fee for supervising the template and the installation. Countertops require a template after all cabinets are installed. It is necessary to have all sinks and faucets on the job site at the time of template. A time lapse of three (3) weeks is normal between template and installation.
H&R Cabinets, Inc is licensed in Lee and Collier counties. Proof of license and insuranced will be provided with each estimate.
Custom Wood Cabinetry
&
Specialty Items


Who we are
&
What we do

Just 5 minutes from I-75 - Exit 136
Plumbing & Electrical


Plumbing

We recommend Moon Plumbing for all of our jobs. They are a customer based company. The reason we use Moon Plumbing is that they are reliable and professional. When a counter top is going to be installed, they will disconnect the water supplies and drain the morning prior to the install. They will be back the next day to hook up all faucets - water supplies - drains - accessories. They provide a warranty and will respond to legitimate complaints. We do not add to the plumbing costs. The customer pays Moon Plumbing directly!!! There are no added costs.

Electrical

We recommend Eaton Electric for all of our jobs. Scott is reliable and does what he says he will do. He ( as is Moon Plumbing) is licensed and State Registered. He has the expertise to do a job with the alternatives that are needed. Once you contract with Eaton Electric, you will not get someone that is not capable of doing the job. This happens with may large companies. As above with Moon Plumbing, we DO NOT add to Eaton Electric's invoice. You pay Eaton directly!!!

---------------------------------------------------------------------------------------------------------------------------